A sound-wave emitting buoy that kills algae will soon be tested in Florida
The buoys are designed to kill single cell algae, thus removing the need for chemical algae killers such as copper sulfate.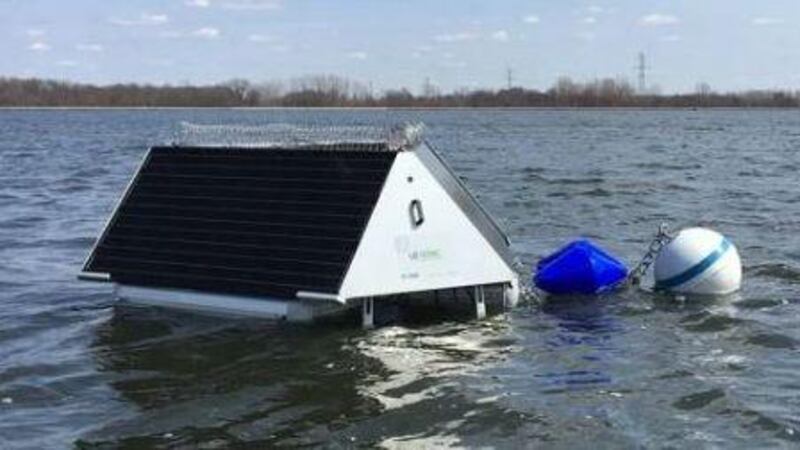 Updated: Oct. 12, 2020 at 2:32 PM EDT
PORT CHARLOTTE, Fla. (Sun) - A Dutch company is setting up its first Florida test of a buoy that kills blue-green algae.
The company, LG Sonic, enlisted a professor from Florida Gulf Coast University to evaluate whether the $50,000 buoys really work. Professor Bill Mitsch, who specializes in how to reduce agricultural water pollutants, received a $1 million grant from the state's Department of Environmental Protection for the project.
The buoys emit low-level sound waves that disrupt a single-celled algae's flotation controls, thus starving it of sunlight, said U.S. Division Director Greg Eiffert. To prevent adaptation, the buoys shift frequencies. They are solar powered and reportedly don't kill fish or other plant life.
Starting in December, the first pilot project will be in an upscale subdivision outside Naples called Treviso Bay. Another subdivision had been lined up, Mitsch said, until its directors decided the buoys might interfere with boating.
Treviso Bay is a new subdivision, and its directors told LG Sonic they want to avoid chemicals to kill lake algae, Eiffert said. The chemical commonly used is copper sulfate.
"There's a lot of people that want to get out of the business of dumping copper sulfate in every lake," Mitsch said.
One buoy covers an open region of 50 acres. They have been shown to kill many types of single-cell algae, but need to be in a confined water body rather than an open-flowing coastline.
"We don't know if this process will work on red tide," Mitsch said of the salt water algae that shut down Florida's Gulf Coast in 2018. "That's a whole other question."
That being said, the state of Mississippi is considering using the buoys on their Gulf of Mexico coastline, Eiffert said, which was shut down in the summer of 2019 due to a blue-green algae outbreak. This fresh water scourge was caused in salt water due to historic overflows from the Mississippi River.
Eiffert said he considers it an unlikely solution for a problem like red tide, stretching into the Gulf of Mexico, "unless someone wants to put out several hundred thousand buoys, which I would take the order for."
The company formed 12 years ago, Eiffert said, and developed the technology with European Union grants. The product was first released nine years ago. To begin, the company sold to regions of the world that had worse problems with algae than the U.S. That includes countries in Asia and South America.
More recently, LG Sonic has been selling in the U.S. for projects in New Jersey and Indiana. The first buyers have been drinking water reservoir operators, he said. Next in line now is recreational sites.
Both New Jersey and Mississippi have had to shut down recreation areas due to algae outbreaks, Eiffert said. In New Jersey it was lakes.
Florida appears to be starting on a smaller scale, but Mitsch has hopes of trying out the system on water coming out of Lake Okeechobee. During the summer of 2018, a huge blue-green algae bloom flowed out of the big lake into two rivers heading to both the Gulf and Atlantic coastlines. Similar to the Mississippi outbreak, the flows were initiated by the U.S. Army Corps of Engineers releasing water to prevent flooding.
These buoys also work on a more recent problem in Charlotte Harbor, filamentous algae. This stringy stuff has piled up along Charlotte County's shorelines for the past few years. The buoys only work on that algae in the single cell state. Water utilities, for example, Eiffert said, remove the large mats first, and then use the buoys to keep the algae from regrowing.
Mitsch said he has some worries that a technological fix will allow people to take their eye off the main problem. That problem is human-generated pollution in the form of nitrogen and phosphorus that run off into the canals, rivers and harbors. Mitsch spent much of his career in Ohio, helping the state finds ways to clean up the most toxic of the Great Lakes, Erie.
"We're not solving the problem," Mitsch said of the buoy solution. That will only happen when farmers adopt strategies to stop using fertilizer, he said. Also, he said, municipal sewage treatment plants have to start removing nitrogen from the waste they release, and homeowners have to stop using septic systems that pollute.
Mitsch has graduate students in Florida and Ohio experimenting with modular agricultural systems that remove the requirement for nitrogen and phosphate fertilizers. The systems require turning farmland into a wetland for a few years at a time.
While he and his students work on these new technologies, Mitsch said he hopes the buoy technology can provide some relief from a problem that isn't going away soon.
"It buys us a little time to have somebody's water clean for 10 years, until we can come up with a policy."
Meanwhile, Eiffert said LG Sonic's next product is aimed at reducing the partner pollutant to nitrogen, phosphate. The details, he declined to share.
Copyright 2020 WWSB. All rights reserved.