CDC: 94% of COVID-related deaths have underlying medical conditions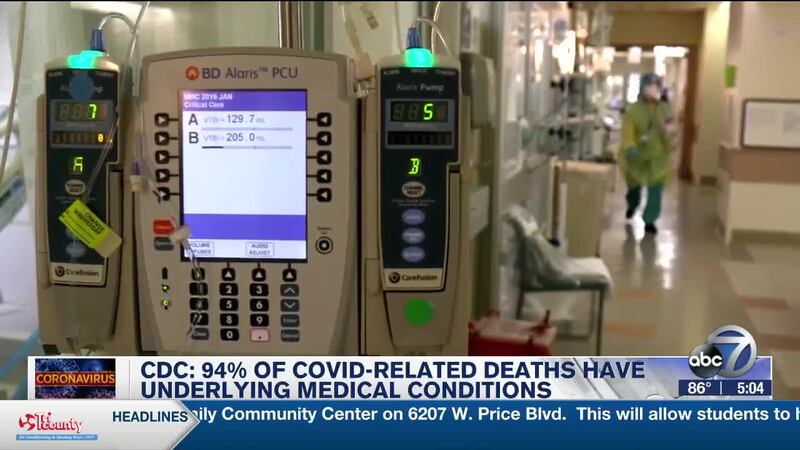 Published: Aug. 31, 2020 at 9:36 PM EDT
SARASOTA, Fla. (WWSB) - The Centers for Disease Control and Prevention released new data that shows just how many Americans have died from COVID-19 - specifically how many had coronavirus on their death certificates. However, this information has caused quite a bit of confusion.
The report shows that COVID-19 was the only cause of death listed in 6% of deaths. Many people online have commented that they thought this meant that only about 9,000 people died from COVID-19, but that is incorrect.
"This seems to be happening a lot nowadays. Someone can take one sentence that's listed out of the entire report and take it out of context. There's nothing misleading in the CDC report itself, but just the way that this catches on like wildfire on social media, it makes people take this out of context. It ultimately leaves people confused and upset," explained Dr. Jason Salemi, an epidemiologist at the University of South Florida.
Dr. Salemi was one of the health experts that quickly came to clarify this today. He says what the CDC's update really means is that 94% of the people who died from the coronavirus had at least one other health condition, in addition to COVID-19, that could have contributed to their passing.
"After infection, the virus might lead to something like sepsis which then leads to respiratory failure which then might even lead to a heart attack. If the person ends up dying, those three things should be listed as contributing causes of death. It doesn't mean that just because COVID-19 wasn't the only cause of death that was listed, that COVID-19 wasn't what lead to that death," Dr. Salemi said.
One Sarasota man who was the first person on the Suncoast to lose his father from COVID-19, tells us this echoes what he's known since the beginning. This virus is deadly for the elderly and those with underlying health conditions.
"He did have some underlying breathing issues that were obviously chronic, but again, this is something that he had managed for decades – at least 15 to 20 years. If not for the virus, he would be here today," expressed Kevin Sheehan.
Sheehan says this confirms that it's not COVID-19 alone that we need to be protecting ourselves and others from, but all the complications that can come with it if you get infected like his father did.
"I don't know how many more ways scientists can show us videos of the droplets are in the air and how you can breathe them and how wearing mask can prevent that. I know for a fact, just because of my family's experience with COVID, this virus enters and attacks your lungs. That's how it kills you," said Sheehan.
Medical professionals say this new information doesn't disprove anything.
"If anything surprised me, I'm surprised that 6% of deaths actually had COVID-19 as the only cause of death. I would've thought it would be much fewer than that just because we know COVID-19 leads to these contributing causes of death," concluded Dr. Salemi.
Here is the direct link to this new report by the CDC which shows these new statistics for COVID-19 deaths:
Copyright 2020 WWSB. All rights reserved.