Pizza restaurant in Sarasota having issues with their outdoor seating for dining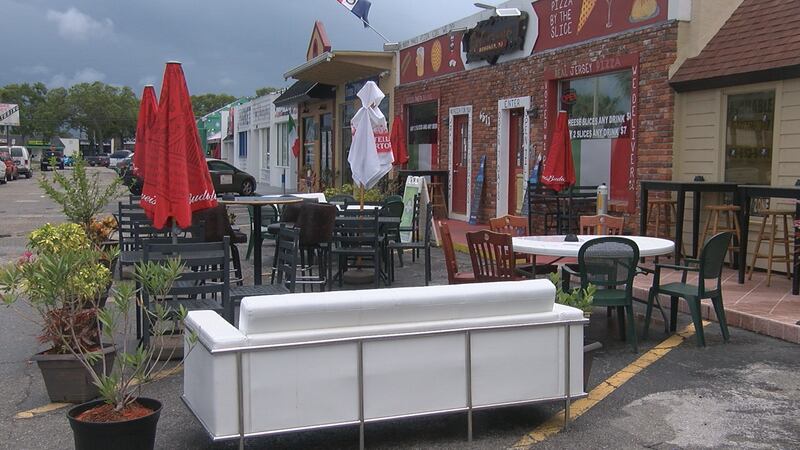 Published: May. 25, 2020 at 10:23 PM EDT
SARASOTA, Fla. (WWSB) - Phil Solorzano says he's having a big issue with his outdoor dining. A code enforcement officer recently told him that he is not allowed to have outdoor seating in the parking lot in front of his business, and he's not allowed to have a large amount of seating.
"I took half of my seating outside, I brought it outside, that's a problem," said Solorzano. "Let me have my seating back inside, when I get it back inside things will get back to normal, we've got to do what we've got to do to survive."
Solorzano tells ABC 7, he was told he was going to receive a citation and have to appear in court. One customer we talked with says, he understands the county's perspective, but he still supports what Solorzano is doing, especially during these challenging times.
"I think that he should be allowed to put the tables outside," said Howard King. "I don't see a problem with it, it doesn't interfere with the traffic, much safer for the public."
Sarasota County did get back in touch with us late Monday afternoon about this situation. They say they will work with the restaurant to help them acquire a free Outdoor Dining Temporary Use Permit. Solorzano, who owns many restaurants on the Suncoast, says this outdoor dining dilemma has been very upsetting.
"Not only do I have the right to do that, I feel like I'm getting selected, picked out out of everybody in the city out of everybody in the country," said Solorzano. "Everybody in the world is doing what I'm doing right now."
Copyright 2020 WWSB. All rights reserved.