Places to donate on the Suncoast for Hurricane Dorian victims in the Bahamas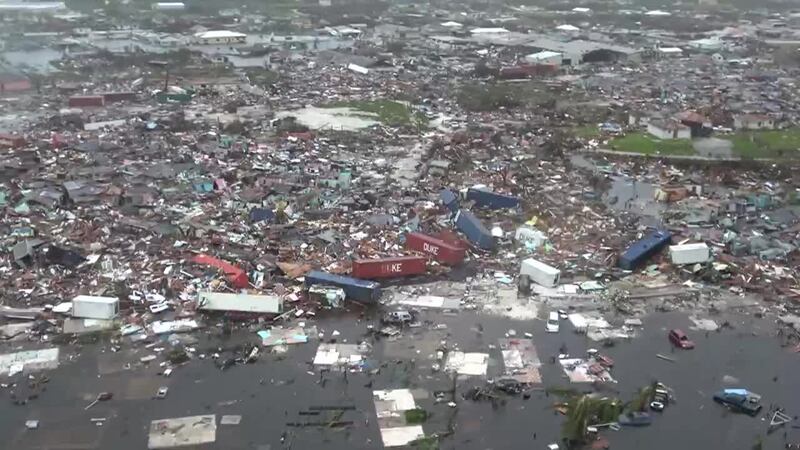 Updated: Sep. 4, 2019 at 2:39 PM EDT
SARASOTA, Fla. (WWSB) - If you want to help victims of Hurricane Dorian in the Bahamas, a few organizations on the Suncoast are gathering supplies.
Here's where you can donate and how you can help.
Donation locations:
High School at 801 N. Orange Avenue in Sarasota

Prep Middle School at 3101 Bethel Lane in Sarasota
What's Accepted:
Heavy duty trash bags

Face/duct marks

Heavy duty construction gloves

Flashlights

Batteries

Solar lights

Masking tape

Permanent markers

Extension cords

Power strips

Paper towels

Toilet paper

Tissues

Disposable dishes/flatware

Tools (hammers, screw drivers, etc.)

Blankets/towels

Manual can openers

Canned, non-perishable food

Bottled water

Antibacterial ointments

Gauze/tape

Rubbing alcohol and peroxide

Adhesive bandages and bandage rolls

Aspirin, Ibuprofen, Acetaminophen

Soap, shampoo, conditioner

Bug spray

Mouth wash, toothpaste, toothbrushes

Hair ties, brushes, combs

Sunscreen

Hand sanitizer and wipes

Feminine hygiene products

Deodorant
When:
Flights begin Thursday, September 5 with Gold Aviation Services; no end date provided
Where:
Flights are going to Treasure Cay Marsh Harbor
Donation Locations:
What's Accepted:
Cash/credit donations for American Red Cross' Disaster Relief Program
When:
Beginning September 4, 2019; no end date provided
Where:
Red Cross program to help families and individuals recover from natural disasters by providing food, shelter, counseling and other needed assistance
Donation Locations:
Ed Howard Mazda located at 7048 S. Tamiami Trail in Sarasota

Agape Flights, 100 Airport Ave E, Venice FL, 34285
What's Accepted:
Non-Perishable Food items: Protein or Granola Bars, Prepackaged pouches/packets of Chicken or Tuna (no cans), Prepackaged cheese or peanut butter crackers, Peanut Butter (no glass containers), Trail Mix, nuts, Cracker packs, Fruit cups, Individual juice boxes, Individual Propel pouches for water

Paper/Baby supplies: Antibacterial hand and face wipes, Toilet Paper, Diapers, Wipes, Paper towels (regular and dispenser roll), Napkins, Paper plates

Cleaning Supplies: Mops, Brooms, Buckets, Sponges, Bleach tablets

Hygiene First Aid Supplies (travel sizes preferred): Toothpaste and Brushes, Shampoo, Soap, Sanitary Napkins, Deodorant

Misc. Items: Generators, Chain Saws, Hand Tree Saws, Flash Lights, Batteries (AAA, AA, C, D), Solar Lights, Tarps, Work Gloves, Shovels, Lunch paper bags, Water storage containers, Folding chairs, Tents, Large Ziploc bags

First-Aid Supplies: Band-Aids, Triple antibiotic ointment, Ibuprofen

NO bottled water, liquid bleach, clothing, medications or linens
When:
Dealership - Monday through Friday 8 a.m. to 8 p.m. and Saturdays from 9 a.m. to 6 p.m.; by Thursday, September 12

Airport - 8am-4pm Monday-Friday; by Thursday, September 12
Where:
Donations will be managed by Agape Flights, who will fly supplies to the Bahamas
Donation Locations:
4000 53rd Avenue West in Bradenton
What's Accepted;
Medical Supplies - Bandages, Rubbing Alcohol, Antibiotic Cream, Peroxide, Ibuprofen, Aspirin, Tylenol, Band-Aids, etc…

Insect Repellents

Cleaning Supplies - Bleach, Lysol Cleaners, Wipes, Brooms, Mops, Buckets, Trash Bags, Gloves, Face Masks

Beverages - Water, Gatorade, Juice, Coffee, Tea, Canned Milk, Evaporated Milk

Food Items - Non-perishable, Rice, Pasta, Soups, Sugar, Flour, Cereals, Canned Veggies/Fruit, Baby Foods

Hygiene Items - Feminine products, Shampoo/Soap, Toilet Tissue, Deodorants, Toothbrush, Toothpaste, Lotions, Baby Shampoo

Baby Supplies - Formula, Diapers, Wipes, Baby Foods, Baby Medications

School Supplies - Notebooks, Pencils/Pens, Backpacks, Toys, Books, Games/Activities, Markers, Art Supplies

Clothing - Adult and Children Clothing in good condition, Towels, Rain Coats, Shoes

Other Supplies - Gas Cans, Gift Cards, Cash/Check, Batteries, Flashlights, Lanterns, Portable Fans, Water Filters, Pots/Pans/Cups, Small Kitchen Appliances, Coolers, Tarps, Work Gloves, Tools, Generators
When:
Starting Tuesday, Sept. 3; no end date provided
Where:
Donations will be managed by charter fishing fleets who are making supply runs to the Bahamas
Copyright 2019 WWSB. All rights reserved.