Sarasota kitchen remodeler accused of taking customers for hundreds of thousands of dollars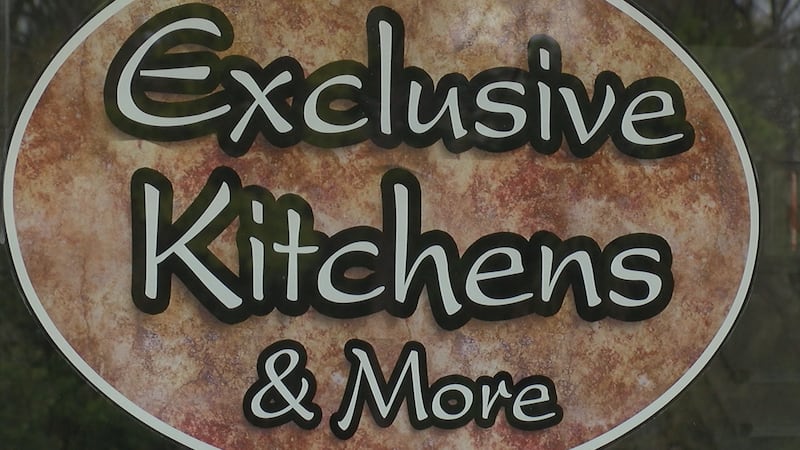 Updated: Jan. 31, 2019 at 8:24 AM EST
SARASOTA (WWSB) - Customers are accusing a Sarasota kitchen remodeler of taking them for hundreds of thousands of dollars.
The business first operated under "Exclusive Floors & More" before changing the business name to "Exclusive Kitchens and More" on Washington Boulevard.
Even though court documents show that the owners of Exclusive Kitchens & More were evicted in November of 2018, most of the signage on the building still remains. There's a printed sign posted that says "closed for today" on the door and when customers look through the window inside, much of the merchandise looks untouched.
New contractors were hard at work on Wednesday, doing the job Eric Nygaard already paid someone else for.
"We're talking $50,000 of material between the cabinets and the flooring, no product," said Nygaard.
That was the first check Nygaard wrote to Alex Gardner with Exclusive Kitchens & More as a deposit for their $90,000 contract to completely remodel his home.
When Gardner's crew made it out to get started, they asked for $31,000 more, then ripped up all of the floors and bathrooms.
"They did that in about a day and half and never to be seen again," Nygaard explained.
Left with $81,000 and a house in the hole, Nygaard said this didn't just take a toll on his bank account.
"The thought of being taken for that kind of money is very stressful and it brings out the anxiety and the PTSD," he said. "The emotional part of it is very, very hard. Going through my health issues, and then on top of this, it makes things ten folds worse."
The survivor of a recent heart transplant said he'll survive this too, but hearing of the others makes him want retribution.
"They were just horrible, awful people," said Juli Frost, another Sarasota homeowner.
She and her family have a similar story.
"We paid $69,060.50," she explained.
Though it wasn't easy, Frost said she was finally able to get Exclusive Kitchens to start the work before her family moved to Sarasota from Atlanta.
But they immediately started noticing red flags and contacted Sarasota County's permit division.
"It's been a hassle from the beginning. My house is a mess, the work is horrible, I do not find a license anywhere," Frost said to the division. "Can you tell me is there a building permit hold for my house? Can you tell me that? I got a email back [saying] there is no permit for your house. It crushed me."
The County then put a stop work order on their home, prohibiting Exclusive Kitchens from any further work, which left the new Floridians house in shambles.
"Really it was a living hell for months with this," said Frost. "It was a constant battle in our marriage, we were trying to keep our kids excited to uproot from their home in Georgia, have a new start, we have family close by and it was a mess. Everything was a constant mess."
Her husband was forced to stay in Atlanta for another year, returning to work after retiring to earn enough money to cover the $70,000 loss.
Though the Frosts found new contractors to fix much of the work they called shoddy, they're afraid Alex Gardner will continue to do this to others.
"I watched retired people come through the [Exclusive Kitchen] door, old couples, all excited to have a new kitchen in their house and I knew what the results were going to be," she explained. "I said it has to stop, this has to stop."
They filed a suit and won a judgement against Exclusive Kitchens and More that's three times the amount they lost, along with many other victims after their restitution too.
Unfortunately, Frost isn't optimistic she will ever see that money.
ABC7 reached out to Alex Gardner numerous times, including calling his cell phone three times, trying another phone number listed online for him and his business line. ABC7 Reporter Taylor Torregano even went to his house. No one answered the door, nor did they return her phone calls.
The Sarasota County Sheriff's Office said it handled two civil matters involving Exclusive Kitchens, however, both were resolved.
At this time, detectives said they aren't leading any investigation related to criminal actions of that business, but they encourage anyone who thinks they may be the victim of a crime, to contact local law enforcement.
Copyright 2019 WWSB. All rights reserved.