VIDEO: Long-time bus driver for Sarasota Schools dies in rollover crash on US 41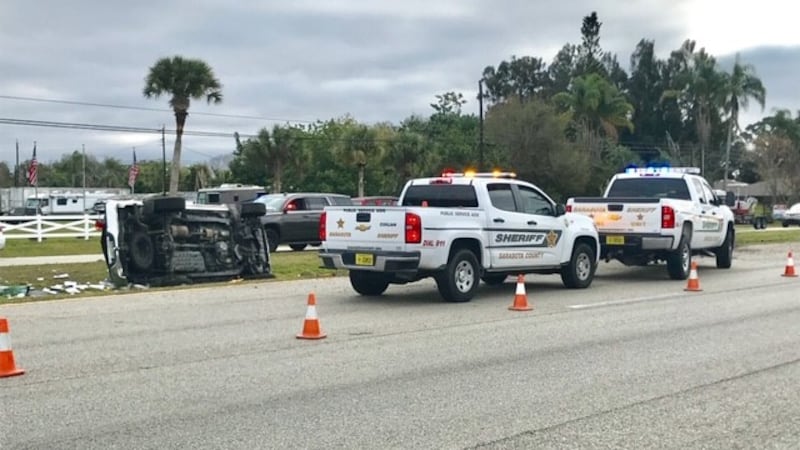 Updated: Jan. 28, 2019 at 11:37 AM EST
SARASOTA (WWSB) - The Florida Highway Patrol is investigating a deadly accident in the Nokomis area of Sarasota County.
Troopers say around 7:30am, 62-year-old Deelena Fae White of Venice was driving north on US 41 approaching 1st Street and was conducting multiple lane changes within the inside and outside travel lanes.
At some point, her vehicle left the roadway and went into the grassy median between the north and south lanes of US 41 near Sorrento Drive.
Her vehicle rolled and White was ejected.
Her vehicle came to a stop in the southbound turn lane of US 41.
White was declared dead at the scene.
The accident remains under investigation.
White was a long-time school bus driver for Sarasota Schools, having driven a bus since 1991. She was also a representative of the Sarasota Classified/Teachers Association, where she was "instrumental in representing classified school district employees and promoting an atmosphere of positive change among school administrators, the SC/TA and employees," according to a release from the school district.
Sarasota Superintendent Todd Bowden said, "I've had the pleasure of working with Dee on various levels. She was quick to ask questions, learn both sides of an argument and maintain a fair and consistent voice for her peers and colleagues. Her role as an intermediary will be missed, and we send her friends and family our thoughts and prayers during this difficult time."
The district plans to release information on services and ways to celebrate her life when that information is available.
Copyright 2019 WWSB. All rights reserved.