Shepherd's Pie & Mini Salted Caramel Apple Pies from The Spice & Tea Exchange | Suncoast View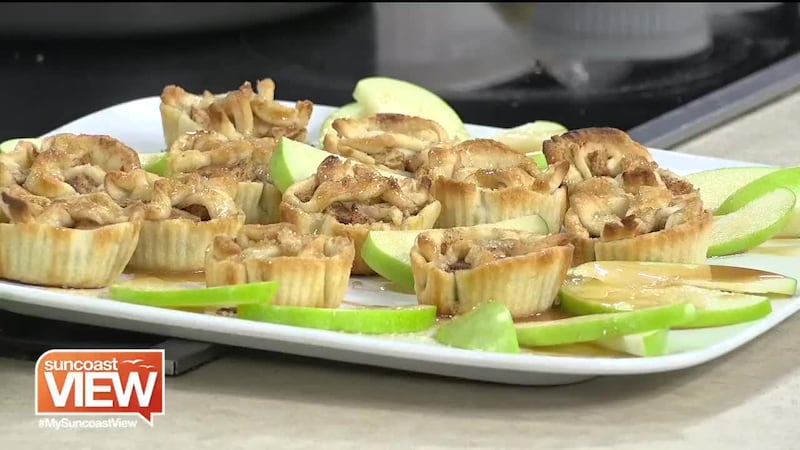 Updated: Jan. 23, 2019 at 12:53 PM EST
SARASOTA (WWSB) -
Shepherd's Pie Recipe
This classic comfort food, Shepherd's Pie, is a made with a layer of ground lamb and sausage and topped with garlicky mashed potatoes. This flavorful and easy-to-make main dish is perfect for supper tonight or it can be frozen and served at a later date!
From The Spice & Tea Exchange® 2 tsp Vik's Garlic Fix! Spice Blend 3 TBS Mushroom Paradise Spice Blend 1 tsp Onion Obsession Spice Blend 2 tsp Arrowroot Powder
From the Grocer 7 russet potatoes 1/2 cup (1 stick) butter 1/2 cup heavy cream, divided 1 lb ground lamb (or beef) 1/2 lb ground Italian sausage 1/2 cup carrots, sliced 1/2 cup frozen peas 1/2 cup frozen corn 2 cups beef broth
PEEL and quarter the potatoes. Boil potatoes until tender (about 20-25 min), then drain. Mash potatoes with butter, 1/4 cup heavy cream, and Vik's Garlic Fix! Spice Blend. BROWN ground beef and ground Italian sausage in a large frying pan until fully cooked. Drain and set aside. IN the frying pan, add veggies and sauté until softened. Add beef broth and simmer 2 mins. Add Mushroom Paradise Spice Blend, Onion Obsession Spice Blend, and remaining heavy cream and stir until combined. SPRINKLE Arrowroot Powder on top of mixture and stir until thickened. ADD meat back to pan and stir until thoroughly mixed. COAT a 9" round pan in non-stick cooking spray and then pour meat mixture into the pan. Top with whipped potatoes (taking small dollops of potato mixture, working your way from the outside of the pan inward). Drizzle melted butter on top of potatoes if desired. BAKE at 375F for 20-30 mins or until golden brown. Yield: 6-8 servings Total Time: 1 hr 25 mins Prep: 10 mins Cook: 1 hr 15 mins
Mini Salted Caramel Apple Pies Recipe
Sweet, warm, and gooey, Mini Salted Caramel Apple Pies are perfected with Baker's Spice Blend and Salted Caramel Sugar. These cute handheld treats provide a quick snack, a cure for your salted caramel craving, or a fun party dessert!
From The Spice & Tea Exchange® 2½ TBS + 2 tsp Salted Caramel Sugar 2 tsp Baker's Spice Blend A pinch of Cayenne Pepper Powder (optional)
From the Grocer 12 cupcake liners (standard size) 6 TBS butter, unsalted, cut into small pieces 1 tsp milk 2 rolls pre-made pie crust/dough 2 apples (granny smith or golden delicious), cored & peeled Caramel sauce (for garnishing)
PREHEAT oven to 425°F. LINE muffin tins with cupcake liners and spray lightly with non-stick spray. HEAT 2½ TBS Salted Caramel Sugar, 3 TBS butter, and milk in a sauce pan on low heat until melted and well combined, set aside. ROLL out pre-made pie dough and cut into 12 (3½" diameter) circles and place in bottom of liners allowing excess width to form sides of crust. COMBINE apples with remaining butter, Baker's Spice Blend, and Cayenne Pepper Powder (for a little heat) in a bowl. Spoon mixture evenly into muffin cups. DECORATE tops of pie bites with remaining pie dough in a crisscross pattern. BAKE for 18-20 mins until golden brown. COOL for 5 mins and then drizzle with caramel sauce and sprinkle with remaining Salted Caramel Sugar.
Yield: 12 servings Total Time: 30 mins Prep: 10 mins Cook: 20 mins
Copyright 2019 WWSB. All rights reserved.