VIDEO: Crash ends up in flames after one driver hits Florida Highway Patrol vehicle on I-75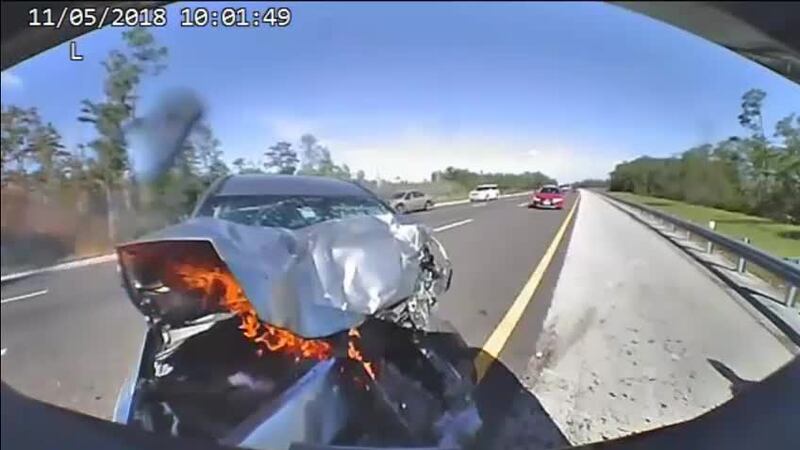 Updated: Jan. 9, 2019 at 1:22 PM EST
FORT MYERS, Fl (WWSB) - A crash ended in flames after a driver hit a stopped Florida Highway Patrol car while a trooper was helping another driver.
On November 5, 2018, Trooper Richard Verbiest pulled up behind a car that was stopped on the inside paved shoulder of southbound I-75 in Lee County.
Shortly after Trooper Verbiest, you see another car driving southbound on I-75. According to FHP, the driver of that car, Fernando Espinoza, swerved off the road to avoid an accident and onto the paved shoulder. He then hit the guardrail and the back of the stopped FHP vehicle.
The impact caused the engine of Espinoza's car to catch on fire.
Trooper Verbiest was able to get out of his severely damaged vehicle, and pull the damaged driver door open to get to Espinoza. He then pulled Espinoza from the Mazda, away from the flames and to a safer location.
Florida law requires you to Move Over a lane when you can safely do for stopped law enforcement, emergency, sanitation, utility service vehicles and tow trucks or wreckers. If you cannot Move Over, you are required to slow down by at least 20mph. In a 20mph zone, you need to reduce your speed to 5mph.
Violating the Move Over law will result in a fine, fees, and points on your driving record. For more information, see section 316.126, Florida Statutes.
Florida Highway and Patrol says this crash serves as a reminder for drivers to remain focused behind the wheel and to follow the Florida move over law.
Copyright 2019 WWSB. All rights reserved.