Leg of Lamb from Popi's Place | Suncoast View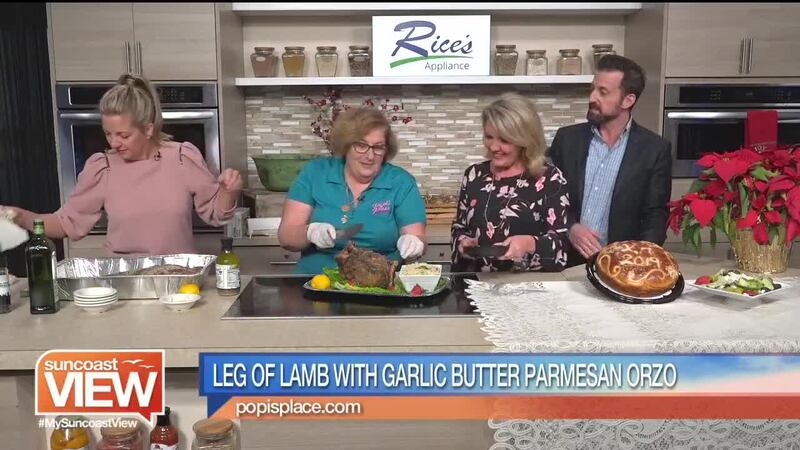 Updated: Dec. 26, 2018 at 4:04 PM EST
SARASOTA (WWSB) -
Leg of Lamb with Garlic Butter Parmesan Orzo
By Kalliopi Ameres (Popi), Popis Place Restaurants
Serves 8-10
Ingredients
Lamb
3-4 lbs Leg of Lamb
2 Lemons Juiced
2 Tbs Salt
1 Tbs Pepper
2 Tbs Oregano
1 Tsp Rosemary
10 Garlic Cloves
1 Cup Olive Oil
½ cup Water
Orzo
1 lb Orzo
½ Cup Butter
¾ c Parmesan Cheese
2 Tbs Parsley
2 Tbs Chives
Lamb
In a large roasting pan place the leg of lamb. Poke ten slices with a knife around the leg of lamb. Place the garlic cloves into the slices. In a mixing bowl combine the olive oil, lemon juice, salt, pepper, oregano and rosemary. Rub the marinade over top of the leg of lamb and let it sit for 2 hours. Place ½ cup of water in the bottom of the pan. Cover the pan with plastic wrap and foil. Bake on 325 degrees for 2 ½ hours covered. Remove the plastic wrap and foil and continue cooking for 30 minutes until golden brown.
Orzo
Prepare the orzo according the package adding 1 tsp salt. After orzo is cooked rinse thoroughly. Mix together ½ cup of melted butter, parmesan cheese, parsley, and chives. Serve immediately.
Copyright 2018 WWSB. All rights reserved.