The reason why FDOT won't add netting to prevent suicides on Sunshine Skyway Bridge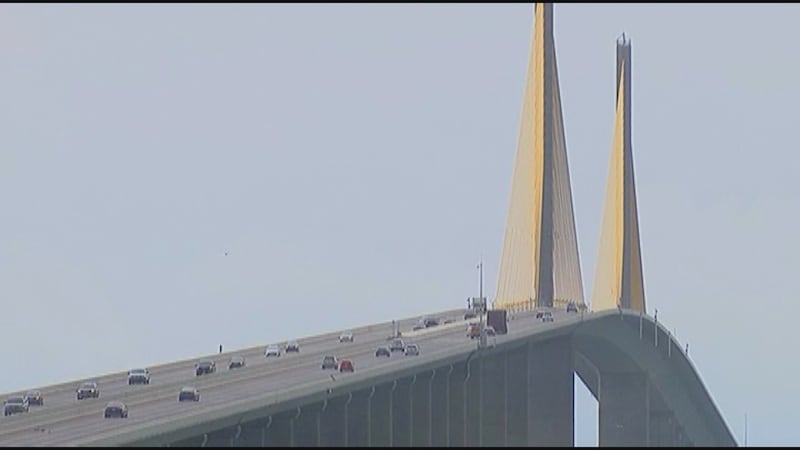 Updated: Dec. 10, 2018 at 7:00 PM EST
MANATEE COUNTY, FL (WWSB) - In between the thousand of cars that drive the four mile stretch of the Sunshine Skyway Bridge daily, at least one dozen people have jumped from the top in 2018.
20-year-old Chris Machesney of Tampa died on November 18 around 5:30 a.m. as a result of jumping from the bridge. His father, Robert Rivards, is demanding answers and change.
"You hear about the Skyway Bridge, but until it actually affects you, you don't really start looking into things," said Rivards.
Following the suicide, ABC7 reached out to the Florida Department of Transportation, which operates the Sunshine Skyway Bridge. A spokesperson said engineers considered adding netting or fencing in the 1990′s, but were left with too many question marks. A fence would prevent officials from using the proper equipment to inspect the bridge. There would be issues with aerodynamics because of wind and height. Birds could get trapped and the netting could push a jumper back into traffic during a failed attempt.
Despite the limitations, FDOT said a Florida Highway Patrol trooper is always monitoring the bridge, hoping to deter people from jumping. There's cameras on both sides of the bridge and six phones which connect to the Crisis Center of Tampa Bay. When a person picks up that phone, the Crisis Center automatically deploys a FHP trooper. Unfortunately, according to the crisis center, only a handful of people pick up those phones annually.
"Between those two efforts, we can save somebody if they grab that phone," said Clara Reynolds, CEO and President of the Crisis Center of Tampa Bay.
If you are in distress with suicidal thoughts, call the National Suicide Prevention Hotline at 1-800-273-8255.
Copyright 2018 WWSB. All rights reserved.