As the Culinary Director for ABC 7, Chef Judi whips up cooking segments on ABC 7 News at Noon, along with extra recipes, cooking tips and great food finds on MySuncoast Dining at www.mysuncoast.com. Her latest recipes and restaurant recommendations can also be found on the ABC 7 MySuncoast.com Mobile App available here: www.mysuncoast.com/mobileapps/
Every Friday, Judi travels to a Suncoast restaurant and performs a live interview from the location. Additionally, she goes behind the scenes and performs extended interviews, gets recipe tips and/or demonstrates cooking techniques right from the kitchen. Many of these segments are web-exclusive appearing on MySuncoast.com or on one of ABC 7's many digital platforms. So keep your eyes peeled and you might spot her participating in the food scene in old Cortez, Lakewood Ranch, Sarasota, Port Charlotte or points in between!
As an honors graduate of the Culinary Arts Program at Johnson & Wales College, Judi Gallagher's passion for food is fueled by her passion for life and her dedication to giving back to her community through numerous charitable organizations. And that dedication doesn't go unnoticed: Judi was honored with the 2008 "She Knows Where She's Going" award from Girls Incorporated for her continued business successes and philanthropy.
Her programs have enabled fans to experience such culinary notables as Chef Jacques Pepin, Chef Roy Yamaguchi, restaurant entrepreneur Johnny Carrabba, Chef Martin Yan, entertaining specialist Colin Cowie, and vintners Leonardo Frescobaldi, Salvatore Ferragamo and Margrit Mondavi, among others.
A former owner of New England restaurants and a reputable dessert company, Judi relocated to Sarasota, Florida, in 1996 to launch a career highlighting her culinary expertise, using television, radio, newspapers, magazines and the internet to share her passion for cooking. Her career has heated up nicely as the Culinary Director for ABC 7, the Contributing Food and Wine Editor of Sarasota Magazine as well as contributor for national and local food and wine and culinary travel publications.
She is the co-publisher and creative director of www.FlavorsandMore.com, a national "pleasures of the table" online magazine, and chef consultant for several culinary publications, as well as co-author of Chef du Jour Cookbook (15th Anniversary Edition). Judi is presently completing an eclectic and informative contemporary recipe and entertaining book.
Judi has been featured in notable lifestyle publications, including Cottage Style Magazine, Coastal Living Magazine, and Edible Sarasota.
Judi also enjoys sharing her restaurant business expertise by overseeing management, marketing and public relations consulting ventures for restaurants and hospitality projects throughout Southwest Florida and the nation. Her forte is providing innovative reorganization projects and grass roots marketing.
Judi can be reached at via email at judi@judigallagher.com. For more cooking tips and recipes, please visit MySuncoast Dining at at www.MySuncoast.com/Dining , her monthly online magazine at www.flavorsandmore.com , or visit her at www.judigallagher.com.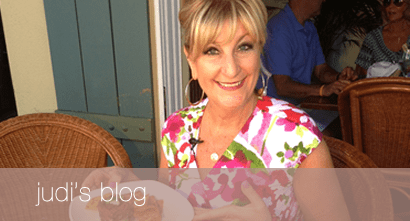 Also check out Chef Judi on social media:
Twitter: https://twitter.com/ChefJudi - Use hashtag #judisfoodies to see what I've been up to and to get in on the conversation!
Pintrest: http://www.pinterest.com/srqchefjudi/
Facebook: https://www.facebook.com/ChefJudiGallagher
YouTube: http://www.youtube.com/user/ChefJudiG?feature=watch
Instagram: http://instagram.com/chefjudigallagher